Sewing Machine Repair School
Fix Sewing Machines Institute
is the leading sewing machine repair school
for professional training on all brand sewing machine repair.
It is owned and operated by:
Trumble Enterprises
1102 S. Austin Ave. Suite110-194
Georgetown, Tx 78626
512-635-5705
www.FixSewingMachines.com
cs@FixSewingMachines.com
A Portion Of The Profits From Sale Of These Courses
Are Donated To:
Castle Christian Ministries
A Seniors Ministry
502 San Gabriel Blvd.
Georgetown, Tx 78628
www.CastleChr.com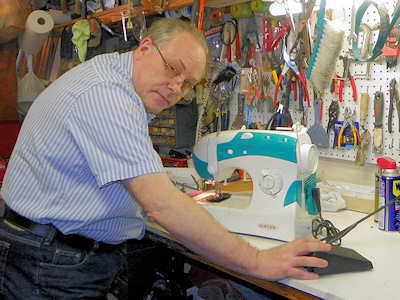 David Trumble President
I understand the challenges of learning to sew; or quilt; or how to fix sewing machines. I have not always been a sewing machine technician.
When I first met my wife Donna, she was the campus sewing expert. She was running her alterations business out of her dorm room. At the time, I knew nothing about sewing. Over the years, sewing has become an integral part of our lives. We married and completed our educations. I pursued graduate studies with a broad range of studies in education, ministry, and business management. (B.A.; M.Ed.; and D.Min.) During my careers, I have taught in public and private schools, preached over 30 years, and operated several businesses.
As a small church minister, money was always scarce. So, in our sewing businesses, we have done just about every kind of sewing you can imagine. We did original costume design to alterations, custom clothing construction, draperies, window coverings, home décor, quilting, and sewing machine repair.
In 1992, we opened The Sewing Studio, a full service sewing center. I was amazed by the demand for sewing machine repair. I had cleaned our machines over the years, but I was no expert. So, I began to look for a school, training center, book, something or somewhere I might learn to repair sewing machines. I thought certainly there would be a basic course offered at the Junior College. Maybe there would be a regional training program from one of the major sewing machine companies. Nope!
After a lot of searching, I found bits and pieces. Allyn International (U.S. Necchi) permitted me to come to Denver. I spent a few days with their national repair supervisor. He taught be a bunch. But a few days was not enough. There are thousands of different sewing machine models. I collected a bunch of old old sewing machine repair books. I got repair manuals on many of the more common machines. I studied hard, but still lacked confidence.
My sewing machine repair business started in my garage. When I got stumped, I turned to my business partner Mr. Stephen Weathers (25 years experience). He helped me diagnose and complete the repair. Over the years, I have acquired hundreds of hours of technical training. This sewing machine repair training included Singers, Necchis, Berninas, Janome, New Home, Dressmaker, Elna, Viking, Brothers, and Baby Lock sewing machines. My practical sewing machine repair experience now stretches over 22 years.
My son Jeremiah use to sit at my workbench with me. He would help with cleaning. Today he is now one of the leading technicians in Texas as well as manager of two Sew And Quilt Stores.
Today we own Temple Sewing And Supply, Inc., a small chain of Sew And Quilt Stores here in central Texas. I have worked in almost every aspect of the sewing business including: production, sales, repair, teaching, accounting, and management. I have drawn on the expertise of many other sewing machine technicians.
My sewing machine repair business had almost immediate success. I am confident that you too will quickly and easily learn sewing machine repair. You may simply maintain your own sewing machines operating at peak performance. Or you may start your own profitable sewing machine repair business.
I continue to support and work with Castle Christian, a seniors ministry that provides worship services, visitation, counseling, and support for seniors in the Georgetown, Texas community.
Fix Sewing Machines Institute has offered a variety of different training programs over the past eight years. Individual courses are available on Secrets Of Sewing Machine Repair, Mysteries of Serger Repair, Elements of Embroidery Machine Repair, Antique Sewing Machine Repair, Sewing Machine Tune Up, Secrets Of Sewing, and Business Development. The complete correspondence program provides sewing machine repair training all over the world through traditional correspondence courses, videos, and hands on application. The Fix Sewing Machines Institute provides live classes that have become the leading sewing machine repair school for professional training on all brand sewing machine repair.
Trumble Enterprises
1102 S. Austin Ave. Suite110-194
Georgetown, Tx 78626
512-635-5705
www.FixSewingMachines.com
cs@FixSewingMachines.com
A Portion Of The Profits From Sale Of These Courses
Are Donated To:
Castle Christian Ministries
A Seniors Ministry
502 San Gabriel Blvd.
Georgetown, Tx 78628
www.CastleChr.com